(TattSi walked to centre stage, lit a candle, and turned to the mic)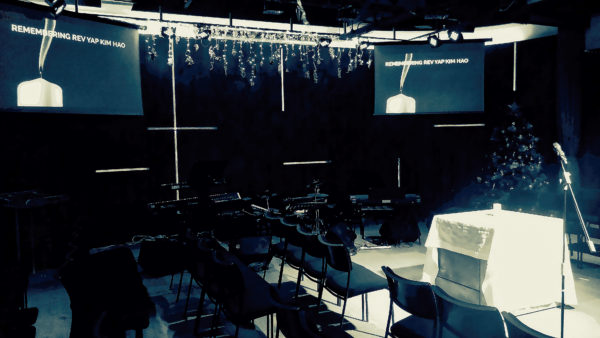 "Hi everyone, I'm TattSi, and I'm from the Humanist Society.
I just want to reassure Mao that while you knew Rev Yap only for a short while, you still beat me in that department. I never met Rev Yap, and only knew him for less than a year, on Internet, on Facebook.
So, to me Rev Yap is as what Rev Miak described, even more powerful in death than in life, mimicking the character in a recent movie, a green Yoda from beyond, because I had never met him in person. For humanists, we feel death is what makes life glorious.
I'm up here the later part of this service, because I wanted to hear all of you out; take in what I didn't know of Rev Yap, before talking about him. As a humanist, I do not have any religion. (Pointing to the candles) The humanist in me will probably tell everyone here who wants to light a candle , to light it from the inside out, because if you light it from the outside in , the next person will burn his/her hand trying to light the inner ones.
So as humanists, we really don't care if you call us humanists, atheists, agnostics, freethinkers etc, we are not so much for labels, but we are perceived to be immoral for the lack of a god-belief. We have a saying within our community, that 'if the religious can stop calling us scums we will stop calling them idiots' . Of course you are not idiots, you may be silly at times… I'm silly at times.
I remember being here, at FCC, earlier this year, where Rev Miak, Imran (sitting at the back), & I had a good dialogue on religion and atheism. After that, Rev Yap & I had many discussions on Facebook. We discussed many things, including some which I proposed for my [humanist] movement that Rev Yap did not agree with, and it got contentious, but we were able to agree to disagree, and he was a gentleman.
Between the people of different religions, the divide seems to be of different gods and of different theologies. Between the religious and the non-religious, the divide seems to be "immoral scums vs ignorantly stupid', but it's not a real divide, and there isn't a clear aisle dividing both sides. Humanism is about using reason, and having compassion. We certainly use reason, we have compassion, and what I learnt from Rev Yap, is the critical thing called Passion. Just as Keith before me had said , it is passion that makes a person go do something than just sitting around talking about it.
A while ago, you will remember there was a Texas Church shooting… and the gunman was an atheist. Sure, he was an atheist, but an atheist with a lot of problems from his Air Force days. Of course, people should know that atheists do not kill for our Non-god … Rev Yap and I discussed about this online, leading to what he said to me, exactly one week before he passed, with little context to the Texas shooting case, something that will stay with me the rest of my life :

Vivian, I'm sure you love to hear this quote.
Humanists have a way of giving religious perspectives back in a funny way. The religious love to say 'you have a god-shaped hole in your heart', but when Rev Yap passed I said 'I have a human-shaped hole in my heart' , and that human is in the shape of Rev Yap.
Rev Yap will be remembered by us not as a religious person, but as a real human, full of human spirit. And the last two, are what we humanists honour the most."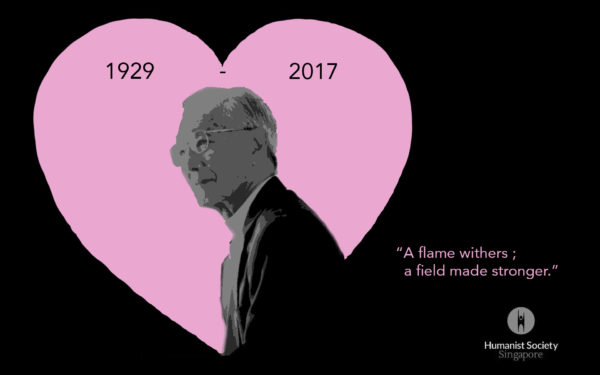 _______________________________
Note :
Mao – Rev Yap's future grandson-in-law, who lamented the short time he'd known him
Miak – Sr Pastor FCC
Keith – American introvert, who was inspired by Rev Yap to work with ex-convicts
Vivian – Sociologist who spoke of critical thinking
(Speech reproduced from memory of the proceedings)