Members from the Society has gone abroad for humanist and atheist conventions, and welcomed guests from overseas when they visit our city. If you are coming to Singapore on a short visit, here is a list of affordable places you can consider.
Some notable encounters
Asian Humanism Conference in Manila (June 10-11, 2017)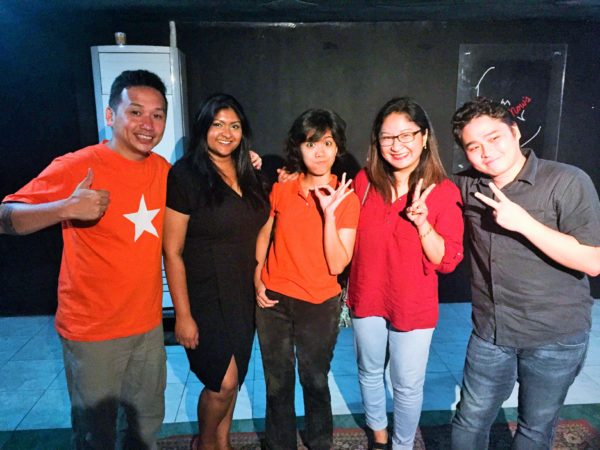 We sent three representatives to the Asian Humanism Conference in Manila. Our Vice-President Shamima Rafi (second from left) gave a presentation about communicating humanism in a conservative country through interfaith dialogues. Read more here: https://humanist.org.sg/manila-lecture-communicating-humanism-through-interfaith/
Dr Frans De Waal's visit (Mar 8, 2017)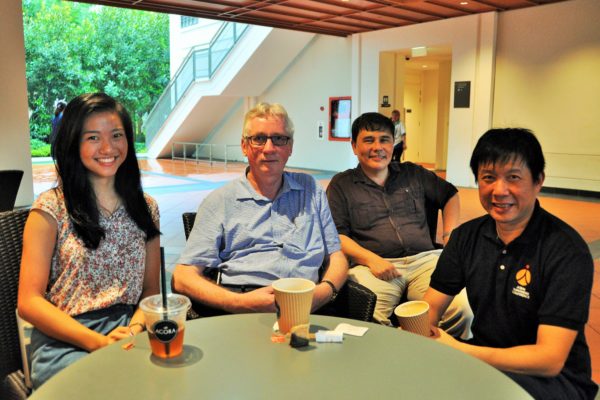 We had tea with renowned primatologist Frans de Waal at Yale-NUS on March 8, 2017, shortly before the public panel discussion 'Being human: Ethics, religion and our ancestry'. Among Prof de Waal's many works include 'The Bonobo and the Atheist; In Search of Humanism Among the Primates'. Prof De Waal's studies on primate behavior has shed light into the evolutionary origins of empathy and cooperation in humans.
Dr Jerry Coyne's visit and lecture (Oct 31-Nov 1, 2016)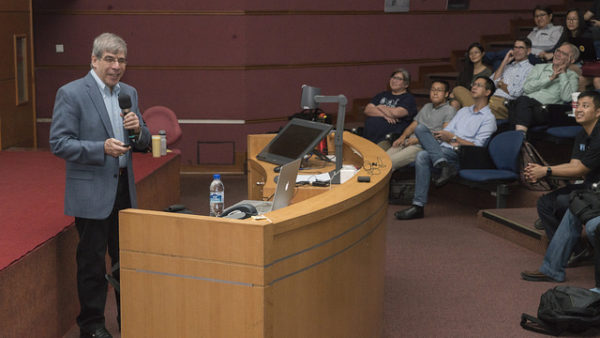 Dr Jerry Coyne gave two captivating lectures on evolution over the past two days. The American biologist lamented how poor public understanding and acceptance of evolution persist in many countries, even in first-world nations such as the US and Singapore, despite overwhelming empirical evidence. Read more here: https://humanist.org.sg/jerrycoyne/
Dr John Perkins' visit (Nov 7, 2016)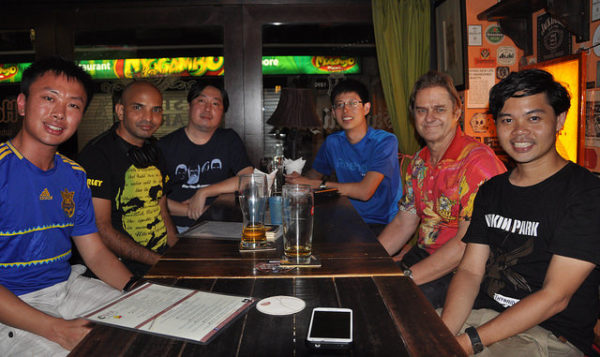 An economist, politician, musician and runner, Dr John Perkins is truly a renaissance man! He has been active in the Australian atheist and humanist community for the past 15 years. On Nov 7, we were honoured to meet him for dinner at The Public House. He shared his views on income inequality, the history of Islam and his passion for running and music.
Screening of 'A Better Life' in Singapore (Sept 16-17, 2016)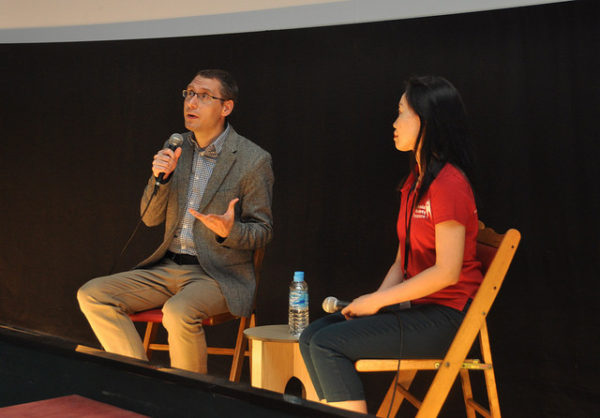 Chris Johnson visited Singapore and took part in two separate screenings of his documentary, "A Better Life: An Exploration of Joy & Meaning in a World Without God". Read about his visit and his Qna here: https://humanist.org.sg/dialogue-with-chris-johnson-presenting-a-meaningful-alternative-to-religion/
Asian Humanism Conference 2016 in Taiwan (Aug 6-7, 2016)
Our President, Tatt Si, attended the IHEYO Asian Humanism Conference 2016, held at National Taiwan University in Taiwan. It is the first humanist conference in East Asia. Here's a summary of his presentation: https://humanist.org.sg/speech-in-taiwan-religious-past-humanism-future/
Singaporeans at the Reason Rally (June 4, 2016)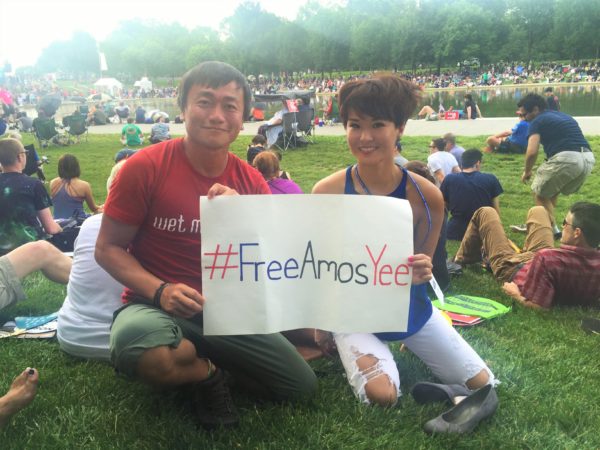 One humanist from Singapore, Alvin Phua (left), attended the Reason Rally in Washington D.C last Saturday (June 4). At the rally, Alvin also met another Singaporean, Melissa Chen (right), who manages the Global Secular Humanist Movement Facebook page. Read more here: https://humanist.org.sg/singaporeans-at-the-reason-rally/
Meeting in Taiwan (Feb 27, 2016)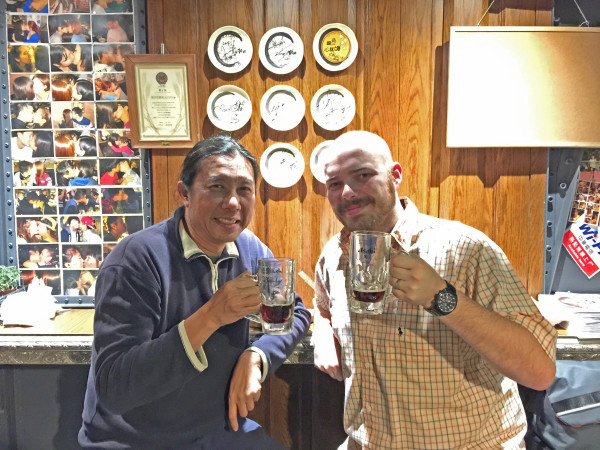 Our treasurer Tatt Si (left) met with Wade Kardaal (right) from Taichung Atheists, Freethinkers, and Humanists in a bar in Taipei. Humanism is growing on the island and today, about one in five Taiwanese are non-religious. Read more here: https://humanist.org.sg/meeting-in-taiwan/
Visitor from Bangladesh (Feb 06, 2016)
We met with Bidesh Kumar, a visitor from Bangladesh, at Public House for a few hours of drinks and finger food. Bidesh shared about his life in Bangladesh, his family, and his thoughts about religion, philosophy and life. Bidesh said the most important things in life that one must do is 1) Travel and read as much as possible, 2) Eat and drink well, but in moderation 3) Find girlfriend/boyfriend. Bidesh brought many gifts from those present, including t-shirts and bells.
Visit by Norwegian Humanists (July 15, 2015)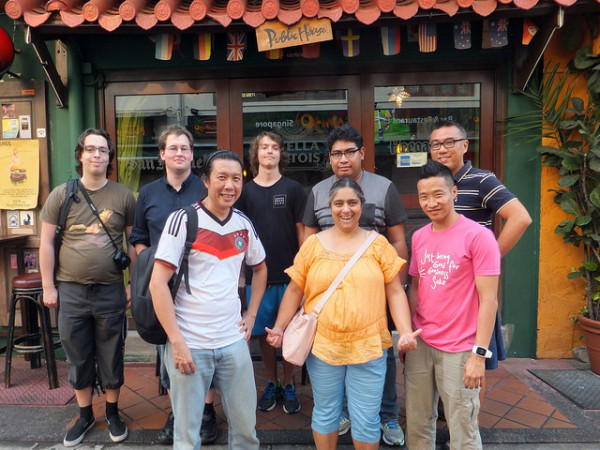 We met some humanists from the Human-Etisk Forbund, or the Norwegian Humanist Association, at the The Public House! Read more here: https://humanist.org.sg/visit-by-norwegian-humanists/
Asian Humanism Conference (June 20-21, 2015)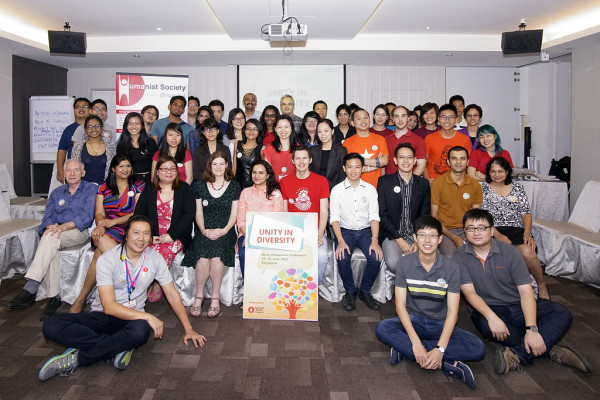 We organised the Asian Humanism Conference from June 20-21, 2015, in Singapore. We held several talks and workshops for delegates from several countries around the world. Friendships were forged between representatives from various nations. Delegates shared ideas and tips for running organisations, using social media, and working with youth. June 21 also happens to be World Humanist Day. For more information, please go to: https://humanist.org.sg/ahc/
Meeting with Csaba Bene from Hungary (Jan 29, 2015)
We had drinks with Mr Csaba Bene, vice-president of the Hungarian Secular Association, at the Public House bar at Boat Quay. Mr Csaba, who was in Singapore for business trip, told us many stories to tell the status of science, religion and civil society in Hungary. Mr Csaba is also involved in the Sunday Assembly in his country.
Meeting with Hong Kong Atheists (Sept 2014)
Some HSS members went on a short holiday to Hong Kong in early September, and took the opportunity to meet some members from the local atheist group, Hillary and Chester from HK atheists society. HK is a bustling and crowded metropolis. Like Singapore, it has a cosmopolitan population with various beliefs and convictions. We spent a good 4+ hours sharing about our two cities. We also learnt a great deal about what is happening in HK of late.
Visit by The Sunday Assembly (Sept 3, 2014)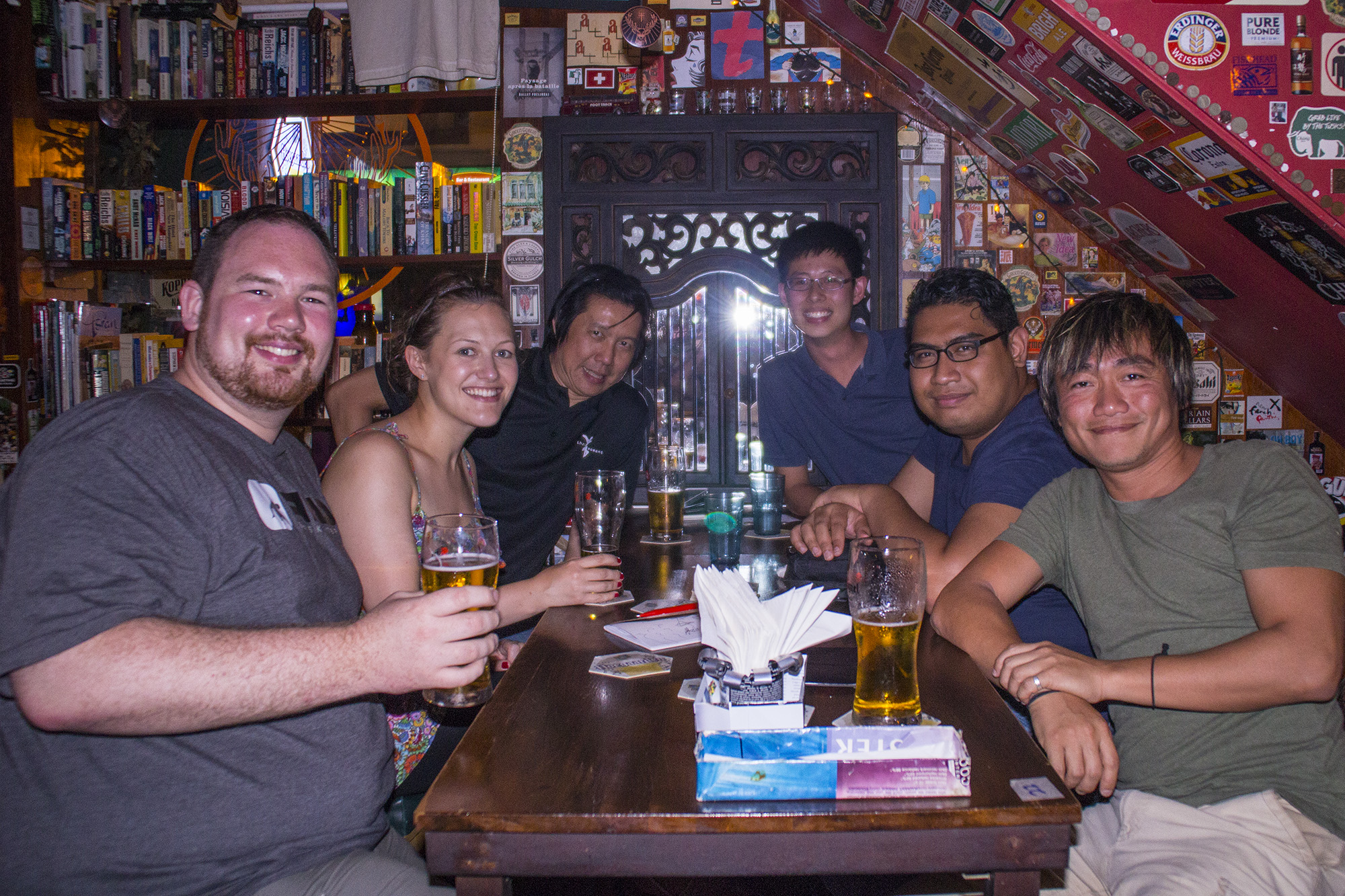 We welcomed Robert Adair and his wife Jess in Singapore on Sept 3, 2014. Robert is from the The Sunday Assembly chapter in Edinburgh. We had a good 4.5 hours of drinking at The Public House, discussing issues of common interest, and learning more about how our respective organisations work.
Paul Bloom's visit (Aug 12, 2014)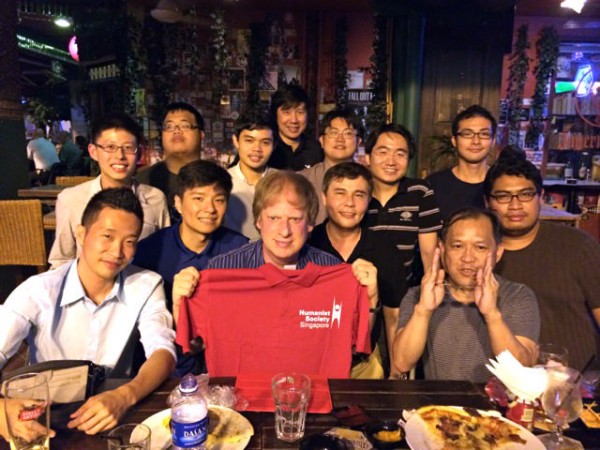 Some members of the Humanist Society and other members of the public met with Paul Bloom, Professor of Psychology and Cognitive Science of Yale University at The Public House on August 12, 2014. Interesting discussions on the psychology of non-belief, gender & non-belief, the price of beer in Singapore and almost everything else under the sun.
Attending the World Humanist Congress 2014 (7-10 Aug)
HSS exco member Huifen attended the World Humanist Congress 2014 from from 7 – 10 August.  She attended the IHEU General Meeting and IHEYO meetings . Read about her experience here.
Picture above: Huifen with friends from the University of Edinburgh humanist students society.
Meeting with Andrew Copson (Mar 7-9, 2014)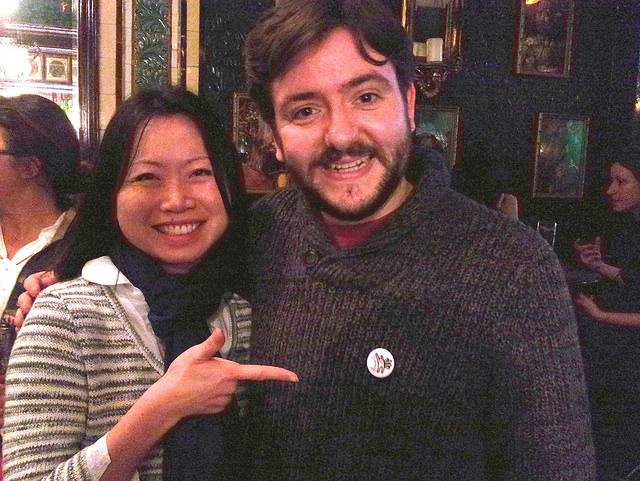 HSS exco member Zheng Huifen with Andrew Copson, Chief Executive of British Humanist Association. They met at Mr Copson's talk at the 2014 convention of the National Federation of Atheists, Humanists and Secularist Student Societies (AHS) in March 7-9, 2014. Read about her chat with him here.
AC Grayling's visit to Singapore (Nov 11, 2013)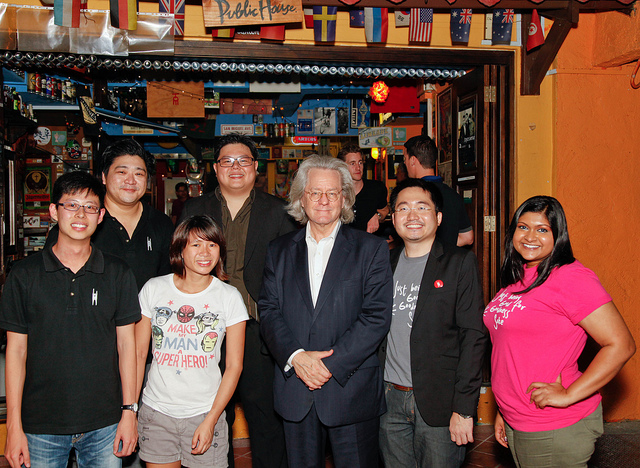 The HSS worked with the National Arts Council to host Prof AC Grayling in Singapore on November 11, 2013. We held a Q&A session where candid questions were posed to the influential British thinker. Read about the Q&A session here.
Lawrence Krauss' visit to Singapore (Aug 26, 2013)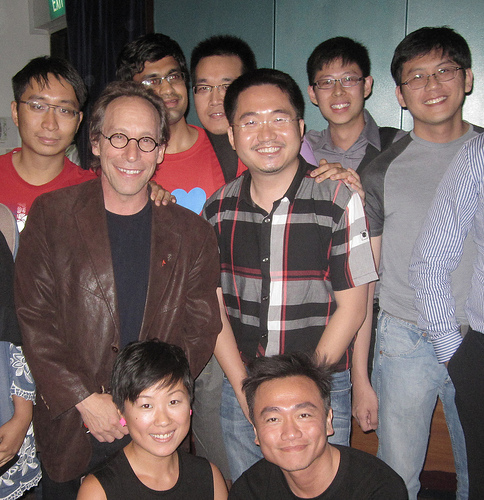 Professor Lawrence Krauss visited Singapore and gave a lecture at Hwa Chong Institution on August 26, 2013 as part of the Public Lectures in Celebration of the 90th Birthday of Freeman Dyson. Some members of the HSS attended the talk and had the fortune to meet up with Prof Krauss. We had previously met with Prof Krauss at the Global Atheist Convention in 2012.
Global Atheist Convention (April 2012)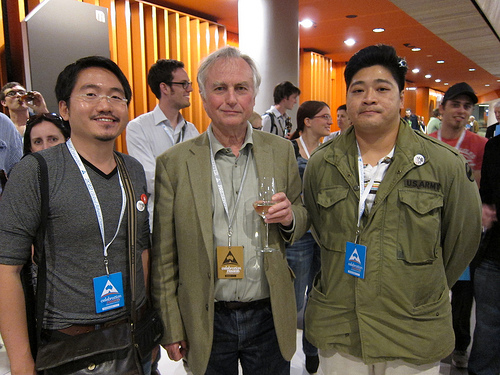 Members from the Society attended the Global Atheist Convention in April 2012. They met up with many famous speakers, including Professor Richard Dawkins. It is the Society's first overseas trip.
IHEU Vice-President stopover in Singapore (Apr 7, 2012 and May 24, 2015)
2012: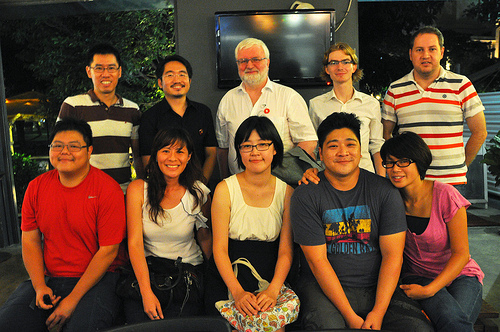 2015:
Representatives from the Humanist Society (Singapore) met up with Mr Roar Johnsen on April 7, 2012. Mr Johnsen is the First Vice-President of International Humanist and Ethical Union (IHEU) and Past President of the Norwegian Humanist Association. He was travelling across Asia and happened to drop by in Singapore. Among some of the things discussed include the state of humanist organisations in the Asia region as well as learning more about the role of IHEU in promoting humanist principles on the global scale.
On May 24, 2015, Mr Johnsen made his second visit to Singapore. We treated him to dinner and gave him our new polo t-shirt. He gave some words of encouragement to everyone present. He talked about the rapid growth of humanism in recent years, the important work that local groups do, and the role of the IHEU, an umbrella organisation embracing humanist, rationalist, secularist, freethought and similar organisations worldwide.
International affliations
The Humanist Society (Singapore) has membership in the following organisations:
International Humanist and Ethical Union
International Humanist and Ethical Youth Union
Atheist Alliance International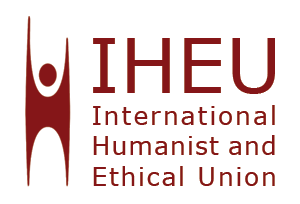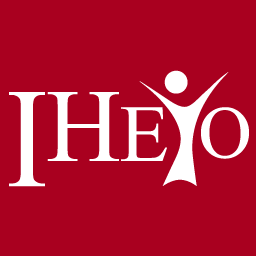 Other listings and mentions