Music is an arrangement of sounds that are pleasing to the human ear. To many, it is the lifeblood of their souls. Humanists and freethinkers are not immune to the feelings of wonderment, luminosity, or bliss. One could be overwhelmed and moved to tears by a symphony orchestra without having to attribute these feelings to imaginary beings.
Since its founding, the Humanist Society (Singapore) has strived to promote the fullest possible use of science and the arts for human welfare. While the Society has organised many sold-out lectures on science and nature, it took a little longer to embrace the world of music and art. Apart from singing sessions at Winter Solstices and some guitar performances at year-end dinners, the Society had no music performances on a scale seen at religious institutions.
This changed on June 24, 2017, when the Society finally put together its first event dedicated to music. The performance was also held to celebrate World Humanist Day, which usually falls on June 21 every year. President Tatt Si, a saxophone player himself, rallied musicians scattered across the humanist community and persuaded them to contribute some songs. Together, these musicians planned a simple but genuine programme over the months of May and June.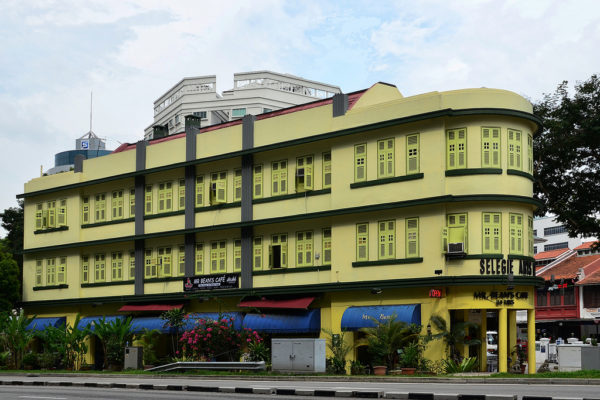 The venue, Selegie Arts Centre (above), is a three-storey colonial-era shophouse that is home to the Photographic Society of Singapore. The privilege to perform in such a picturesque and historic place, however, was earned with considerable sweat. Without the help of elevators, musicians and volunteers had to lug instruments, stands, and PA systems up three flights of stairs!
https://www.flickr.com/photos/95171409@N07/34772120554/in/album-72157682511151114/
On the top floor, we were given a small hall, with a capacity to seat up to 80. Adorning its walls were rows of award-winning photographs, bathed in gentle light. While a far cry from the massive halls of a megachurch, it was no less meaningful to both players and listeners.
From 230pm to 6pm, humanist musicians presented a diverse offering. From classical Bach pieces to stripped down acoustic singalongs, from the blazing extreme metal to indie rock & roll, the performers surprised many fellow humanists their long-hidden music talents. Just as humanists demand no conformity in terms of intellectual positions, no genre limits were given to the performers either.
The first player, Paul Amazona (below), started with an amazing ukulele performance of the well-loved While My Guitar Gently Weeps (by Beatles) and Rolling In The Deep (by Adele). The audience broke into enthusiastic applause after his songs ended.
Watch his feature & performance here.
Bryan Gan (below) followed up with a sizzling electric guitar performance of Great Architect Of Nothing and Crossing the Bridge of Siraat. No windows were harmed in the process.
Bryan's electrifying performance then gave way to soothing classical music from the Bach era.
Other performances include a series of classical guitar pieces by Adam Quek, accompanied by his daughter. Adam played Bach Cello Suite No 1 Prelude in G major, Bach's well-tempered clavier Prelude in C major, and a modern piece called Circular Logic. Adam had just completed his exam in guitar and was clearly comfortable with these classical pieces!
Watch their feature & performance here (watch this space)
Throughout the performances, Tatt Si (above) served as emcee, constantly engaging the audience and the performers. Supergrapher Ruey Loon provided video support.
Shawn Somerby (below) sang Richie Jen's (任贤齐) classic favourite Xin Tai Ruan ("心太软"), accompanied by guitar music by Ponybard (below, right).
Watch the feature performance here (watch this space)
Nora sang Tekad, song poem by a musical group called Nuradee. Tekad is one of the poems from Mohd Latiff Mohamad's antologi 'Segumpal Api Selingkar Pelangi', written between 1967 and 1977. It highlights the position of the Malays in Singapore at a time when the country was experiencing rapid change. Ponybard provided the guitar accompaniment.
Watch the feature performance here (watch this space)
Ponybard himself performed four songs: The Path, the Epitaph of Seikilos, Merrigan's I know you and U2's The Miracle (of Joey Ramone)". His vocal performance accompanied by his own guitar playing.
Watch the feature performance here (watch this space)
Our President Tatt Si gave a saxophone performance of Dave Brubeck's Take Five. Tatt Si himself served as a band player back in his school days.
Watch the feature performance here (watch this space)
A National University of Singapore student band called 'The Roses' performed three songs: 1. Immigrant Song, TL;DR, Something There, and Greatest Night. The Society also invited professional buskers and encouraged the audience to sing several classics such as Yu Jian by Stephenie Sun.
https://www.flickr.com/photos/95171409@N07/35413215482/in/album-72157682511151114/
Watch the feature performance here (watch this space)
Overall, the Humanist Music Day was a success. The Society hopes to repeat this music day next year, and invite new musicians on board to perform! If you are interested in performing at a Society event, please contact us info@humanist.org.sg