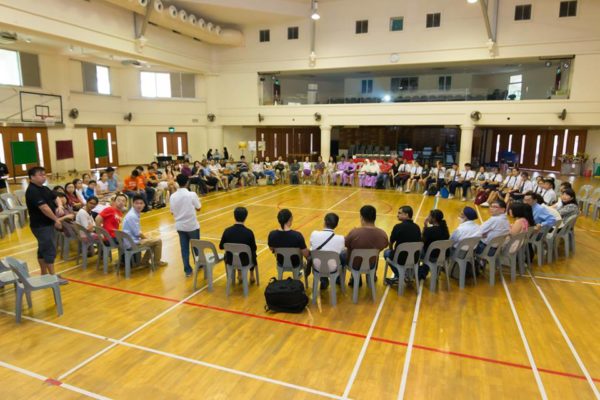 Interfaith dialogues are a common feature in Singapore but since 2012, a different type of dialogue called the "UnConference" has been taking place annually at Nanyang Girls' High School (NYGH). Instead of having a panel of religious leaders lead the dialogue, UnConference generates a dialogue from the ground-up, allowing participants to suggest their own topics and attend any discussion they fancy.
The Humanist Society (Singapore), or HumanistSG, has been sending representatives to the UnConference from 2014-2016. Although we are an NGO comprising of humanists, atheists, agnostics and other like-minded people, the Society also supports Singapore's racial and religious harmony. This year, the UnConference was held on August 13.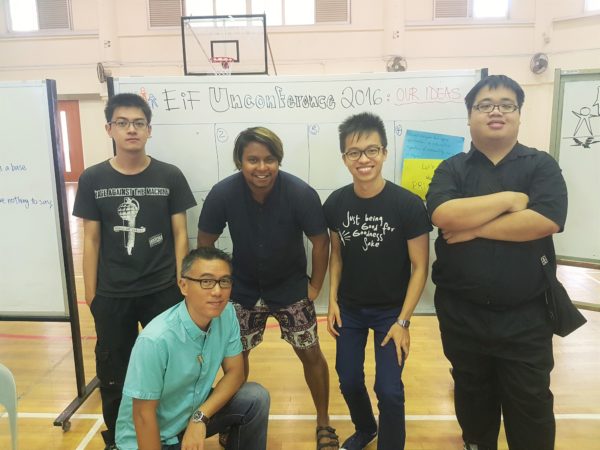 Photo: Humanists at UnConference 2016, held at NYGH school hall.
The South East Community Development Council organised the UnConference through its Exploration into Faith (EiF) programme. Many students from various secondary, pre-university and tertiary schools in Singapore attend the UnConference every year. Also included are teachers, religious figures and various members of the public. A group of dedicated and specially trained EiF facilitators moderate the dialogue carefully.
Ice-breakers are used to start the day, allowing participants to relax and make new friends. What follows is a "marketplace of ideas" where people can choose to bring up any discussion topic. Participants will subsequently discuss among themselves whether to drop certain topics or merge certain topics. After the number of topics have been narrowed down to about 5-10 ones, each topic will be assigned an empty classroom within the school for focus group discussions. Participants are free to attend or leave any classroom, depending on their level of interest in the topic.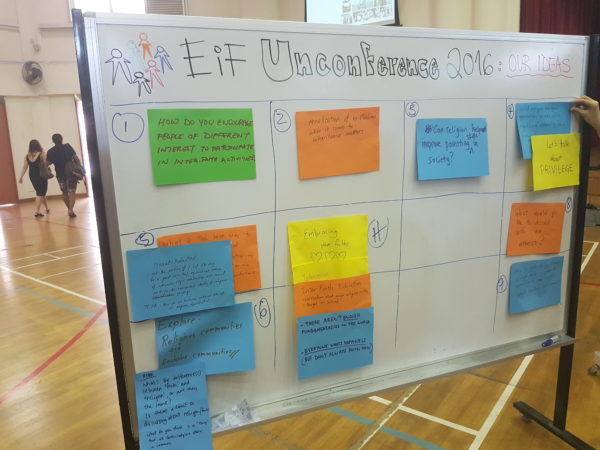 Photo: The "marketplace of ideas" where participants suggest a discussion topic and paste them on white marker board. Some overlapping topics have been merged.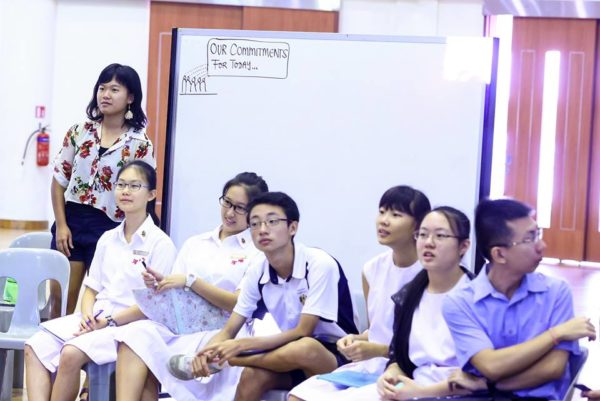 Photo: UnConference participants discussing topics for the day. Photo by EiF.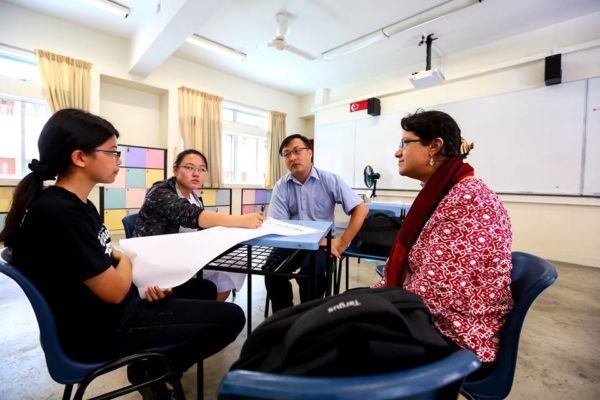 Photo: A focus group discussion in one of the classrooms. Photo by EiF.

Throughout the nine-hour event, from 9am to 5pm, two rounds of focus group discussions were held. A dazzling variety of topics, including sensitive ones, have been brought up. This includes topics such as aggressive proselytisation in public spaces, interfaith marriages, LGBT rights, terrorism, state-religion relationships. Other "milder" topics include religion and spirituality, environment, religion and culture, and parenting. In each discussion group, thoughts will be written down on a huge mahjong paper. A group member will then be assigned as the presenter when the focus groups gather at the school hall again.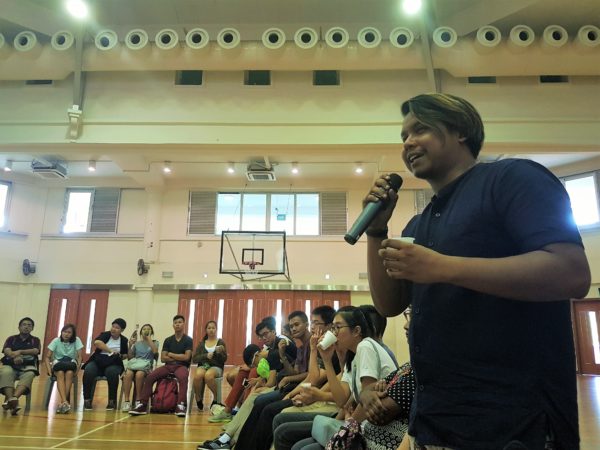 Photo: A participant suggesting a new topic for discussion.

At the UnConference 2016, topics suggested by HumanistSG representatives include the root causes of terrorism, helping to solve problems in other religious faiths, and interfaith education in schools. One ex-muslim brought up the issue of inheritance and sharia law. It is heartening that many people from various faith traditions, as well as the non-religious, displayed refreshing enthusiasm in learning about issues outside their comfort zone. One participant even set up a discussion group about "what would you want to say to an atheist?"
Discussions at the focus group discussions can be intense at times. At the same time, HumanistSG representatives were exposed to a healthy range of different viewpoints. Several students from the host school, NYGH, displayed strong current affairs knowledge, impressive presentation skills and concise summaries of complex topics. HumanistSG representatives also offered our non-religious perspectives on issues such as morality, secularism and LGBT rights. As we are still a new organisation, many people were surprised and curious about our existence. We spent time explaining activities conducted by our Society, such as talks, social networking events and letters to the press.
Photo: A student presents a summary of discussions from focus group.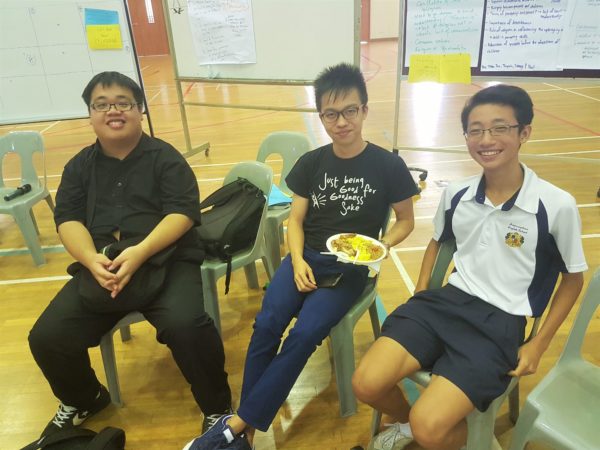 Photo: Humanist representatives with a fellow participant at the UnConference.
One of the persistent issues brought up this year was the need to improve public understanding of the various faiths. Also included are concerns over religious tensions being "swept under the carpet", resulting in mere religious tolerance but not genuine religious harmony and acceptance across Singapore. Participants suggested reviving comparative religious education in school curriculums. HumanistSG representatives welcomed such studies and expressed hope that a component on the non-religious could be added to comparative religious education.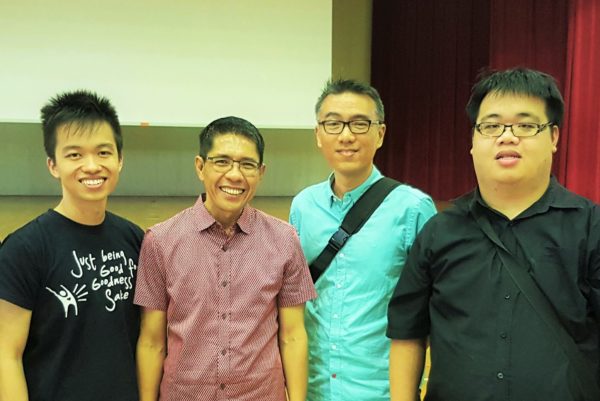 At the UnConference this year, the HumanistSG representatives were also pleased to meet South East District Mayor Maliki Osman (above), who also serves as the Senior Minister of State, Ministry of Defence & Ministry of Foreign Affairs. We introduced our organisation to the Mayor and shared our thoughts on issues such as the increasing trend, from members of the public, to resort to police calling to resolve religious offense issues. Dr Osman listened sincerely and explained to us the government's perspective on racial and religious interactions in Singapore, giving new insights to our representatives.
The UnConference this year also took place while national swimmer Joseph Schooling won Singapore's first Olympic old medal in the 100m butterfly. UnConference organisers made the effort to stream Schooling's race and award ceremony live: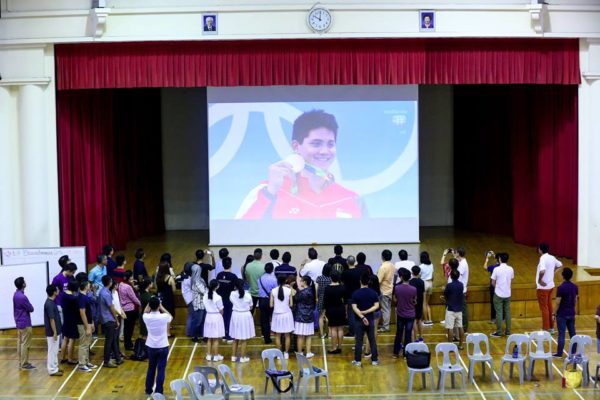 Photo taken by Explorations into Faith. View the full album here.
HumanistSG thanks South East CDC and EiF for organising the UnConference and hopes that important conversations can continue across a wider spectrum of Singapore society. This will help to defuse tensions and in the process, nurture a more intelligent and mature public sphere.