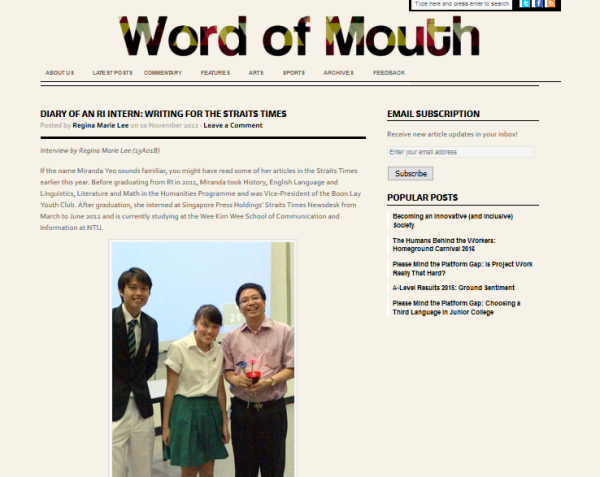 Raffles Press published an article called Diary of an RI Intern: Writing for the Straits Times featuring Miranda Yeo, who graduated from RI in 2011.
Miranda described her experience as an intern at the Straits Times Newsdesk. In one paragraph, she described meeting Mr Ang Hock Guan, a humanist in his 90s:
"I met an elderly and deaf man, Mr Ang Hock Guan who lived alone in a one-room flat. He had so little to himself – nothing more than a bed, a cupboard, a table and a bookshelf. I befriended him and found out he was intelligent and believed in humanism, a theory that mankind does not need religious structures to form a sense of morality. He wrote essays upon essays, annotating his yellowed copies of philosophy books – but I was his only reader. He said his last wish was to join the Humanist Society of Singapore, so I managed to arrange a visit to his home with the society's president. That day, he held my hands and told me I was an angel. But that very night, he passed on."
Our President that year, Mr Mark Kwan, met Mr Ang and helped fulfill his wish to be a HSS member. In 2014, we mentioned him in our commentary in Yahoo, Recognising Non-Religious Singaporeans.  Here's the photo of Mark and Miranda with Mr Ang, shortly before his death.