The Singapore Kindness Movement was formed in 1997 and aims to encourage Singaporeans to make a positive commitment to gracious living through simple acts of kindness in their daily activities. Recently, the Movement has set up a platform called The Pride which delivers uplifting stories and fresh insights into current issues.
On June 22, SKM released a video called "Have you ever talked openly about religion in Singapore?" (above) discussing the underlying tensions between different religious groups in Singapore. Representatives from multiple religions were invited to give their opinions. The Movement has also included a non-religious Singaporean, Ashley Toh, and her perspectives in the video.
The seven multireligious and non-religious participants were invited to the "Tennis Ball Test" where they have to answer "25 at-times uncomfortable" questions. They can answer "yes" to the question by taking out a tennis ball and throwing it into the floors.
The questions asked include: Has any friend or family member ever tried to talk you out of your faith? Has an online comment from a Singaporean criticising your religion made you feel afraid for your own safety? Do you feel that people from certain religions are more likely to become terrorists?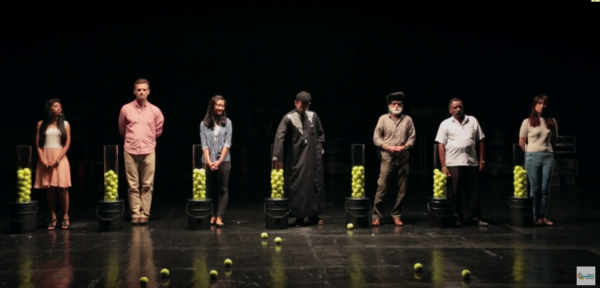 The large number of balls thrown shows that although Singapore is known worldwide for its religious harmony, underlying tensions persist between the different religious groups. This includes the tensions between religious and non-religious Singaporeans as well, which comprise 18.5% of the resident population according to 2015 data.
We encourage you to watch the video in full to find out more about the perspectives from different representatives. The Pride, which published the video, is also running a poll about people's experience of religious harmony in Singapore. We encourage non-religious Singapore residents to participate in them too.
The Humanist Society (Singapore) recognises the importance of religious harmony in Singapore and we have made efforts to participate in interfaith dialogues. Over the years, we have sent representatives to events organised by EiF (Explorations into Faith) and gave talks at events organised by NUS and NTU.
Across our country, people are slowly beginning to realise the necessity of including freethinkers in these tension-defusing dialogues. Atheists, agnostics and humanists, too, play an important role in social cohesion. For more information about our interfaith efforts, you can read our interfaith page: https://humanist.org.sg/our-work/interfaith-efforts/