Date
05/11/2015
Time
7:00 pm - 8:00 pm
Location
University Cultural Centre, National University of Singapore
50 Kent Ridge Crescent, NUS Centre for Arts, Singapore 119279
Singapore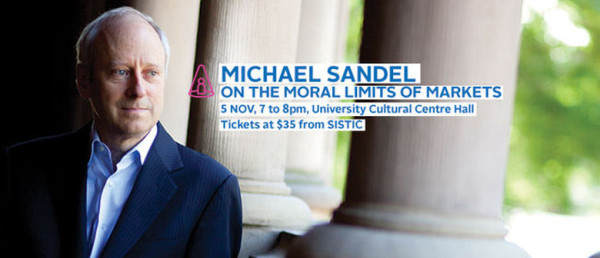 Do bankers deserve to make a hundred times more than what school teachers earn? Is the free market fair? And what are the real costs of economic inequality and the role of markets in achieving the public good?
The HSS is organising a group outing to an event featuring Harvard political philosopher Michael Sandel, which was organised as part of the Singapore's Writers Festival. Tickets costs $35 each but if there is a group booking of 20, there will be a 30% discount ($24.50).
PLEASE FINISH READING THE INSTRUCTIONS BELOW:
1) The HSS will not proceed with the group booking unless there are at least 20 confirmed RSVPs, which is the minimum needed for the group discount to kick in. Please email your name and contact number to info@humanist.org.sg if you want a ticket under the group booking.
2) After your RSVP, you can pay the HSS on the event day itself. If you fail to turn up, we hope that in your good conscience you can still pay for the ticket because otherwise, someone else will have to.
3) As time is tight, please RSVP by Nov 2, 12pm, Monday. After that, we will proceed with the group booking. Any RSVPs after the deadline will not be part of the group booking and entitled to the 30% discount.
4) On the event day itself, look out for the HSS red logo sign near the UCC entrance on the ground floor. The logo sign can be seen on the wall below.
More info: https://www.singaporewritersfestival.com/nacswf/nacswf/programme-listing/ticket-events/MICHAEL-SANDEL-ON-THE-MORAL-LIMITS-OF-MARKETS.html