Date
28/04/2017
Time
7:00 pm - 10:00 pm
Location
Free Community Church
1 Commonwealth Lane, #02-01 One Commonwealth
Singapore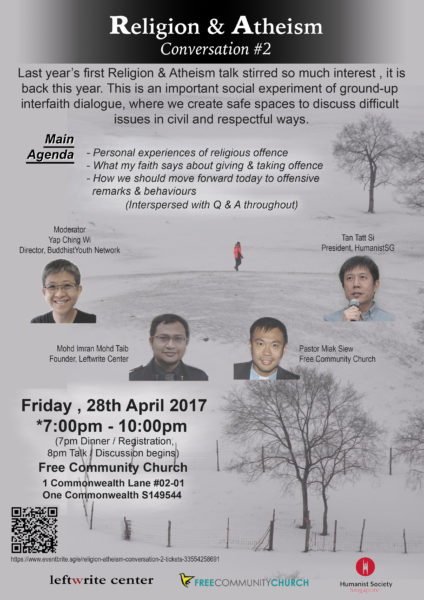 The first Religion & Atheism conversation talk stirred much interest, and so it's back again this year in collaboration with LeftWrite Center, Free Community Church, and BuddhistYouth Network. This is an important social experiment of ground-up interfaith dialogue, we create safe spaces to discuss difficult issues in civil and respectful ways.
Agenda
Personal experiences of religious offence
What my faith says about giving & taking offence
How we should move forward today to offensive remarks & behaviours
Interspersed Questions & Answers throughout.
For tickets, https://www.eventbrite.sg/e/religion-atheism-conversation-2-tickets-33554258691
Note: Be sure to observe the Chatham House Rule during the event, which is used throughout the world as an aid to free discussion. The Chatham House Rule reads as follows: … participants are free to use the information received, but neither the identity nor the affiliation of the speaker(s), nor that of any other participant, may be revealed. https://www.chathamhouse.org/about/chatham-house-rule