Date
03/08/2014
Time
1:00 pm - 4:30 pm
Location
SMU Administration Building, Level 4
81, Victoria Street
Singapore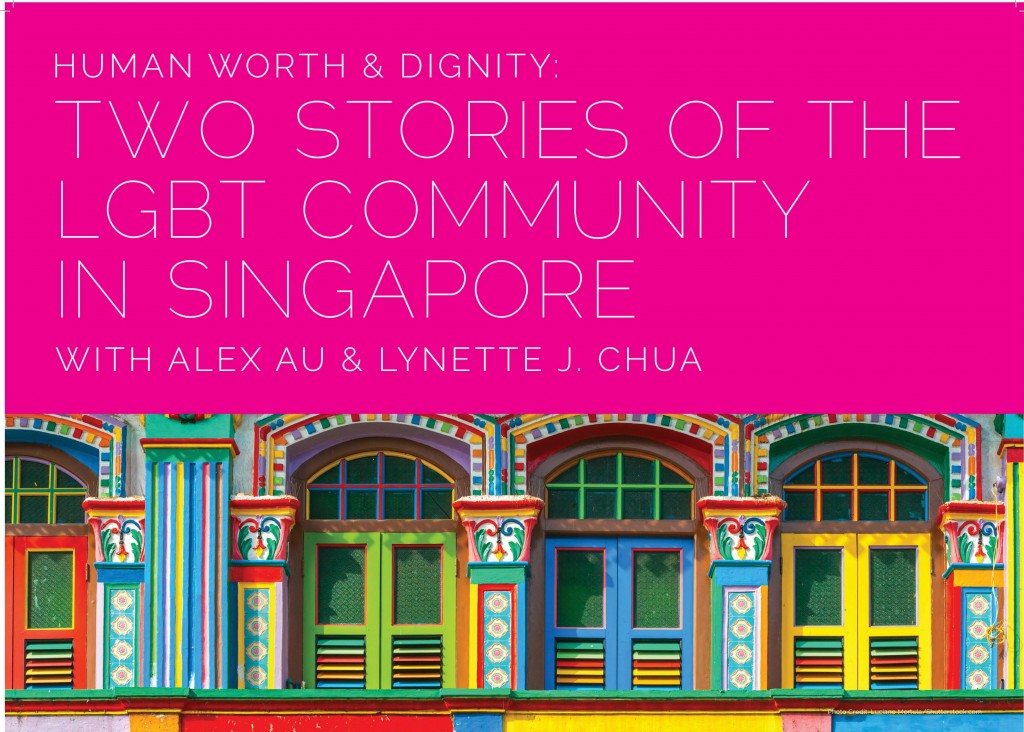 Special Announcement:
The Humanist Society (Singapore) is pleased to announce the support of AWARE Singapore for this event. We extend a warm welcome to AWARE members and we look forward to having you join us for this talk.
Venue: SMU Admin Building, Level 4, Function Rooms 4.1 and 4.2
$12 for Humanist Society (HSS) / AWARE members and $15 for non- members. Please reserve your tickets by emailing events@humanist.org.sg
"I believe that everybody should be treated equally and also that we should all really try to get along, not judge people based on certain things you don't agree with, or you don't really know about." 

(Interview with gay activist- an excerpt from Mobilizing Gay Singapore, at 16).
The Humanist Society (Singapore) presents a discussion on human worth and dignity, by looking at two perspectives of the LGBT community in Singapore.

Mr Alex Au, of the Yawning Bread blog fame, will present his personal journey as a high-profile member of the LGBT community, and how he continues in the face of the odds.

The 2nd speaker, Asst Prof Lynette J Chua, will present her new book: "Mobilizing Gay Singapore: Rights and Resistance in an Authoritarian State", which analyzes the development, strategy and tactics of Singapore's LGBT movement.
Asst Prof Chua will examine the meanings of rights that emerge from the book's ethnographic study of Singapore's LGBT activists and discuss how they influence the ways in which these activists continue to mobilize in face of legal and political obstacles.

The talks will be followed by a Q&A moderated by President of the Humanist Society, Mr Paul Tobin. 
Only 120 seats  available. Please reserve your tickets by emailing events@humanist.org.sg