HumanistSG executive committee will be holding an urgent closed-door discussion , in response to this recent announcement.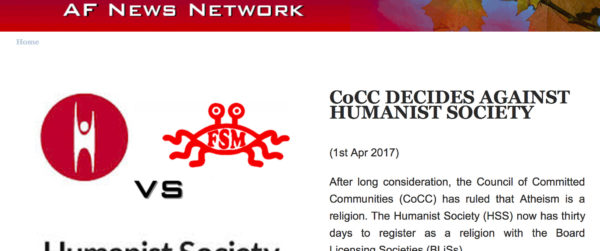 CoCC DECIDES AGAINST HUMANIST SOCIETY – AFNN
(1st Apr 2017)
After long consideration, the Council of Committed Communities (CoCC) has ruled that Atheism is a religion. The Humanist Society (HSS) now has thirty days to register as a religion with the Board Licensing Societies (BLiSs).
The Honourable Bjetahan of CoCC said that despite the protracted and careful study of the rise and popularity of Atheism, it was a relatively simple decision to make. "They organize regular social events, bringing stability to otherwise meaningless lives; they do charitable work for the poor and underprivileged and they do so with the conviction we have also observed among other religions.".
Another CoCC council member Li Chin Gong added: "The decisive thing was once they launched Celebrant activities for weddings, deaths, moonyöt (babies' full month) and gay outings. That's a clear sign of religion-commercialization."
Mr Li was reported to have said in private, "We are doing these goondus a favour. Terrorism has no religion, and since atheism is now considered a religion, its followers will no longer be branded heretics, nor persecuted for lack of morality." . He added 'it was a thankless job but the authorities had to regulate this bunch who were making a mockery of non-religion.'.
In a related development, current HSS President Ng Chai See suddenly found himself embroiled in a power struggle. A rival group, understood to be led by ex-President Jessie Low, is gearing up for the upcoming AGM elections on the platform of an HSS in worship of the Flying Spaghetti Monstress (female of 'Monster'). When interviewed Jessie Low shared, "The Flying Spaghetti Monstress, power be unto Her, is not a make believe mascot. More of us have had personal visions of Her. She has come into our dreams to challenge us to take Atheism where no atheist has gone before. We will be led to victory in the elections."
Other ExCos could not be reached for comments. Mr Ng claimed 'other ExCos do not exist' and 'will be postponing all activities until they have consulted with their accountants.'. The optimistic, revenue-minded Mr Ng revealed that 'blessing new subway trains is potentially a new source of income.' – AFFN
(Original announcement can be found at this link :  http://www.fiends.net/index.html )