The HSS held our first ever book sale for charity on 9 March 2014 at The Public House at Boat Quay.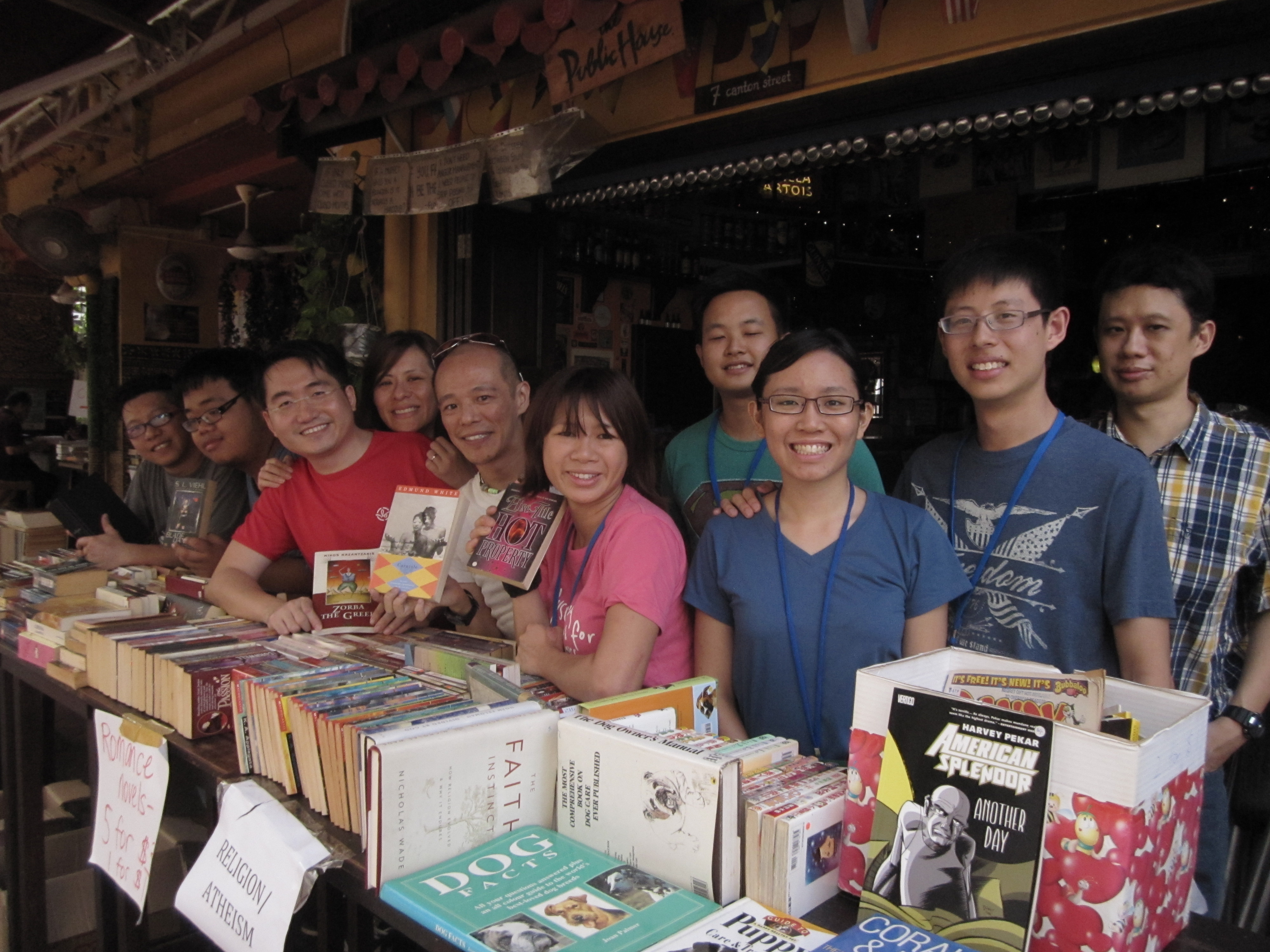 Over 500 books – ranging from the heavy to light, Karen Armstrong to Steven Pinker – were up for sale, donated by members, friends and well-wishers of HSS.
People also had a relaxing time browsing their new buys in the cool comfort of the Public House, or just playing board games over drinks.
Prior to the book sale, HSS held an online poll to decide on the beneficiaries of the sale, one local and one foreign charity. The votes went to Oogachaga Counselling and Support (a counselling and personal development organization for lesbian, gay, bisexual, transgender and questioning (LGBTQ) individuals), and Médecins Sans Frontières (Doctors Without Borders) Hong Kong.
With the incredibly generous support of donors and buyers, a total of S$5001 was raised from this sale. Shortly after, HSS' donations of HKD$10,539 was successfully delivered to Médecins Sans Frontières (Doctors Without Borders) Hong Kong, and S$1,667 to Oogachaga.
The remainder of the funds raised will be used for our future activities. The extra funds will definitely help the HSS deliver more quality talks and social events for our members and friends.
The HSS is grateful to
i. donors who gave their beloved books for a good cause (especially Caleb Liu, who donated the majority of the books) ;
ii. buyers who came down on a Sunday afternoon to support us and the chosen charities;
iii. our volunteers who helped to collect, sort, and deliver the books to The Public House (Mark L, Kenny, Mark K, Liyan, Joel, Pearl, Jianyue, Eugene and Irene, Adrian C, Adrian B, and Karen) ;
iv. The Public House (Alvin and Anna) which kindly provided the venue and helped made this a great afternoon for all.