Date
08/02/2017
Time
7:00 pm - 9:15 pm
Location
Student Lounge,Yusof Ishak House Level 4
31 Lower Kent Ridge Rd, Singapore 119078
Singapore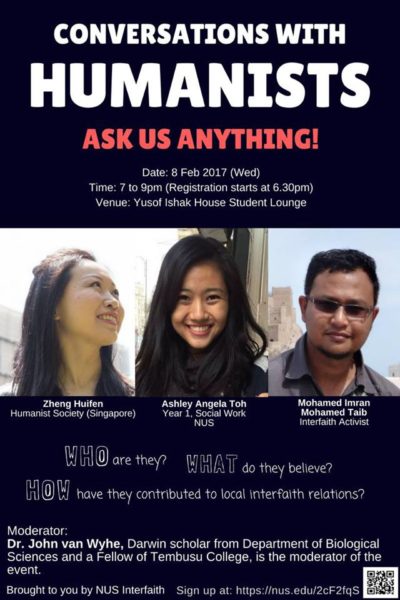 Hosted by NUS Interfaith Society (https://www.facebook.com/nusinterfaith/) :
Note: Access to the event is restricted to NUS students and staff only
This Humanist-interfaith event is a discussion forum that seeks to draw attention to a particular group of non-religious people called "humanists" (although in recent years more and more people with religious affiliations are identifying as humanists as well). Unbeknownst to most people, humanism has had a long history in Singapore. Humanists too are involved with faith-related issues. This interfaith dialogue will discuss who humanists are and what they believe, as well as how their interfaith efforts have benefited and can further contribute to local interfaith relations.
For the speakers' profiles, please visit our sign-up link:https://nus.edu/2cF2fqS. Do sign up through the link to indicate your attendance.
We invite all NUS students, the non-religious and the religious to be part of this unique interfaith event. Do spread around amongst NUS students and staff. Take note that only NUS students are invited to this event.