Date
23/07/2011
Time
6:30 pm
Location
Glassroom Cafe
School of Information Systems, SMU, Level 2. 80 Stamford Road #02-03
Singapore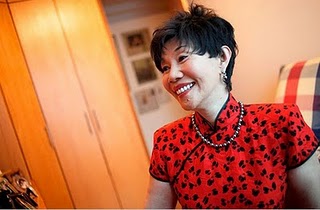 The Humanist Society (Singapore) will be presenting our inaugural "Humanist of the Year Award" to Dr. Catherine Lim on Saturday July 23rd 2011. This award is given to humanists who have made an impact on the society at large, locally and internationally.
Dr. Lim is known for her many books that touch on Malaysian and Singapore culture as well as her incisive writings on the political landscape of Singapore. Catherine has published seven novels, ten collections of short stories, two poetry collections and one semi-philosophical book about philosophy, life and death (Unhurried Thoughts at My Funeral).  Her latest book 'A Watershed Election' is a compilation of her political commentaries on the General Election of 2011, published  by Marshall Cavendish'.
Dr. Lim will be giving a short speech at this event, at the end of which she to take questions from the audience.  Her books will also be on sale at the event.
SPEECH SYNOPSIS:
'Being Human, Humane, Humanist – the Whole Shebang' :  Catherine Lim will talk about her 30-year-old journey – most arduous indeed!- from doubt, uncertainty and anxiety, to calm understanding, acceptance, peace and joy. It is an atheist's version of the sacred pilgrimage, except that the final arrival has nothing to do with God, and everything to do with humanity – who we are, where we came from, and how we should relate to one another in our one-time existence on this, our wonderful planet.'
There will be a buffet after the Q&A session.
Entry Fee:
S$16 for Members
S$24 for non-Members
(Membership from 1st of July is S$5 -second semester only- + S$5 otc)
Please RSVP a week before the event (i.e. by 17thJuly) by email to events@humanist.org.sg .
Updates will be posted in our Event Calendar.