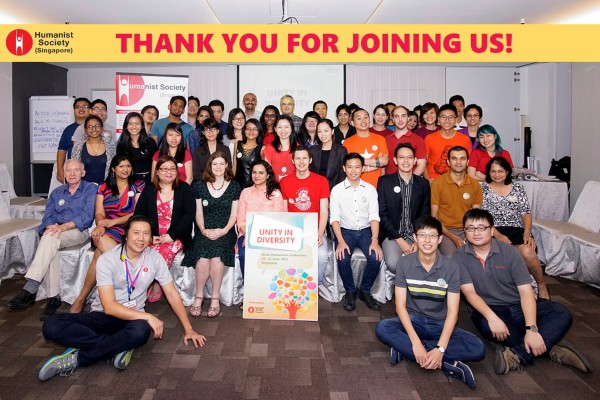 Hello!
On behalf of the Humanist Society Singapore, we thank you for joining us at the Asian Humanism Conference. This past weekend saw the convergence of local and foreign delegates to share humanist perspectives with great advice of how to communicate effectively and compassionately.
EVENT CONTENT
Here is the event guide for you to find out more about our speakers and their organizations.
Check out pictures of the event:
Speaker Presentations: Download speaker slides here and also, scroll to the bottom of this note for their reading recommendations and links to explore.
UPCOMING HSS EVENT
We're off to see the dinosaurs! Humanist Society (Singapore) will organize a special guided tour of the Lee Kong Chian Natural History Museum in mid-July (exact date TBA). Tour size is limited so book early once the date is confirmed! Stay in the loop by Liking our FB Page or checking in on our Events Page.
PLEASE SUPPORT
This November, we will be a part of the Experience Poverty campaign in Singapore to raise money for children in developing countries through the Deworm the World Initiative. Join us as a participant by pledging to live on $3 a day for 3 days. Email community@humanist.org.sg for more information or read more about our initiative here.
ASIAN HUMANIST WORKING GROUP
Our foreign delegates' flights and accommodation at the Humanism Conference were generously sponsored by the International Humanist Ethical Youth Organization. We strongly encourage you to find out more about them by clicking here or by Liking the IHEYO FB Page.
IHEYO's Asian Working Group is the forum through which Asian Humanist organisations can get in touch and work together. The Working Group is one of four, the others are: the European Working Group, African Working Group and Americans Working Group.
FURTHER EXPLORATION
Dr. John van Wyhe says:
Explore Darwin Online and Wallace Online!
• http://darwin-online.org.uk/
 The Filipino Freethinkers would like to you to check out:
• j.mp/freethinkertalk (referred to by speaker Red Tani)
• j.mp/rhconstitutional (a short video about the Filipino RH law victory)
• http://amzn.com/B00QVLEQRU – Comforting Thoughts About Death That Have Nothing to Do with God –  (A great book by author Greta Christina)
• https://www.youtube.com/user/filipinofreethinkers (Youtube channel, with famous freethinker interviews as well as podcasts and other videos)
Management expert Paul Singh Gill thinks you should join this movement:
A philosophy for developing organizations and products through validated learning, to help you streamline your lives, societies as well as create the next billion-dollar enterprise!
 Malaysian journalist Zurairi AR invites you to connect with him:
http://www.themalaymailonline.com/opinion/zurairi-ar/
Twitter: @zurairi http://twitter.com/zurairi
 Tess Termulo, President of the Philippine Atheists and Agnostics Society (PATAS) says:
Download her recent conference speech here 
Or, visit the PATAS website